Amid Pandemic, Attorney Pushes Through Court System to Obtain An Almost Half a Million Dollar Settlement for Car Accident Victim Who Had Been Offered Zero
by lauraramos | August 16th, 2020 | General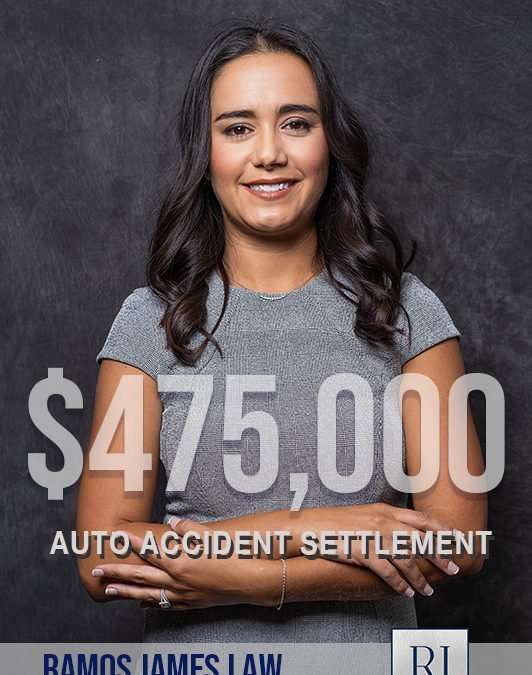 Amid the Pandemic, Attorney Laura Ramos James Pushes Through Court System to Obtain An Almost Half a Million Dollar Settlement for Car Accident Victim Who Had Been Offered Zero
Around the world, every single person has felt the effects, one way or another, of the current health crisis. Although we live in a first-world country, Americans from all walks of life have suffered the devastating consequences of COVID-19.
As soon as the pandemic started, Ramos James Law took aggressive steps to continue providing top notch legal representation to all of our clients, the majority of which come from under-served and underprivileged populations in our community in Central Texas. Part of our plan consisted of immediately becoming familiarized, adopting, and incorporating systems that allowed us to continue prosecuting cases through the civil court system. Our law firm was one of the first law firms to push for:
virtual depositions
court hearings, and
mediations
via Zoom to avoid our clients' cases stalling for indefinite periods of time. When fear paralyzed many, we rose to the challenge. Since March of 2020, we have been able to prepare and present our clients for depositions, take several expert and defendant depositions and successfully settle cases at mediations, all via remote video conference.
One of those cases recently led to an almost half a million-dollar settlement for our client, Sebastian Lopez[1]. We were hired to represent Mr. Lopez in litigation when the auto insurance company made a zero offer to him. The at-fault driver of a commercial motor vehicle failed to yield the right of way at an intersection, cutting in front of our client and causing a significant wreck. Our client's truck was totaled and he was looking at months of physical therapy and doctors' appointments for the foreseeable future.
Once months of treatment reached a plateau, an orthopedic surgeon examined Mr. Lopez and determined the only way he would get better was to get spinal surgery. A settlement demand was made to the auto insurance company that represented the at-fault driver, providing them an opportunity to settle the matter without court intervention. Their offer to settle was zero dollars and zero cents. Instead, the auto insurance company questioned the need for surgery, the amounts of the medical bills that our client was responsible for, and demanded to get medical records for any medical treatment  that Mr. Lopez had years before the wreck took place.
Our law firm filed a lawsuit and the litigation process began. We were able to discover, by taking the deposition of the at-fault driver, that his credibility would be a big issue at trial. It turned out that the driver, whom we will refer to as "Jason Swift", called his employer from the scene of the accident and told them that our client was faulted by the cops and given a speeding citation for the wreck. That, of course, was a lie. Furthermore, at his deposition, Mr. Swift started by testifying that he had only had one motor vehicle accident in the past. By the time the deposition was over, we were able to get Mr. Swift to admit to the truth—he had had six prior motor vehicle accidents, all of which were his fault and three of which were while working for his employer at the time of the wreck.
We deposed the employer company representatives. We will refer to the company as "Area One". We wanted to know how a clearly unsafe driver had been allowed on the road time and time again. The corporate representative for Area One testified at the beginning of his deposition: "Area One is a very safety-conscious company. It's the first part of our DNA, and, you know, everything that we do promotes safety for our employees." Not long after our cross examination, it became obvious that the company's actions spoke louder than their words. Mr. Swift had been given a number of "final warnings", none of which were enforced. Mr. Swift himself testified he expected the company to fire him after his third offense, but they did not do so.
Soon after these depositions took place, the pandemic hit. We faced fierce opposition in our attempts to continue prosecuting the case. We offered to present our client for his sworn deposition testimony by remote video conference at any date that would be convenient to the defense. We offered open availability to conduct mediation with any mediator of the other side's choice. We were presented with argument after argument stating why it was not feasible to do either one of those things, and essentially threatened with our clients' case stalling among those many other civil cases that are currently in legal limbo. We persevered and were able to conduct the rest of the proceedings via Zoom.
Ultimately, the case led to an outstanding result that pays for our clients' damages and losses and fairly compensates him for an incident that was not his fault. The civil justice system cannot turn back time and erase this disruptive and painful experience from our client's life. All it can do is give him auto insurance money to try to make him whole again. If given the choice, Mr. Lopez would prefer to not have this accident than to take half a million dollars, a million dollars, or ten million dollars. He lost precious time playing with his children, endured sleepless nights with pain, and missed out on dozens of weekends going out dancing with his wife. Mr. Lopez felt like a lesser man at work when he couldn't perform the hard physical labor he was used to doing before Mr. Swift broke the law and hit his truck. However, Mr. Lopez is an optimist and is grateful that he got the justice Ramos James Law was able to provide through our relentless efforts. He is ready to move on.
If you have been injured through no fault of your own, call our law firm at 512-537-3369.
[1] Names have been changed to protect the privacy of the parties involved.