Fort Worth Pileup Accident Involving 130 Vehicles Leaves 36 Injured, Kills 5
by lauraramos | February 18th, 2021 | Auto Accidents, News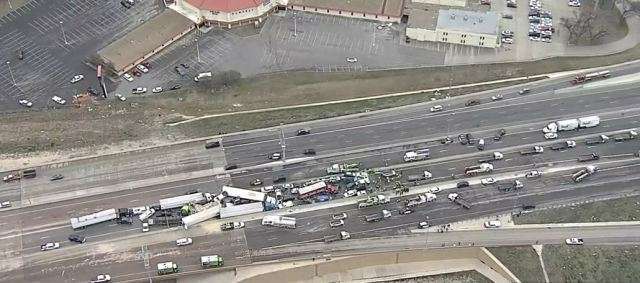 On February 11th, a massive pileup occurred on Interstate 35-W in downtown Fort Worth as a result of slippery roadways.
Details About the Incident 
According to reports, the accident occurred at around 6:00 a.m at I-35W. The severity of the pileup led to the highway closing down. 
Paramedics and local law enforcement agencies arrived on the scene and began rendering aid to victims. Current reports state that 36 individuals suffered injuries and 5 individuals lost their lives.
Texas Governor Greg Abbott declared a disaster declaration the following day and urged fellow Texans to stay inside due to the unprecedented cold front.
Weather-Related Accidents Stats to Be Aware Of
When driving in severe weather conditions, such as single-digit freezing temperatures, you put yourself at a tremendous risk as the roadways may be filled with black ice, which can cause major vehicle stability issues.
According to the United States Federal Highway Administration, each year 24% of weather-related accidents occur on snowy, slushy, or icy pavement. Over 1,300 people lose their lives and more than 116,800 people are injured in crashes on snowy, slushy, or icy pavement annually. There are also 900 fatalities and 76,000 reported injuries as a result of sleet and snowy conditions.
Texas saw a total number of 560,952 weather-related accidents in 2019, of which 268 were a result of hail/sleet. 3,288 individuals lost their lives as a result of these accidents.
Tips for Driving in Severe Freezing Conditions
When preparing to drive on icy or snowy roads, it is important to keep the following in mind: 
Have an emergency kit:

You can never be too careful when driving during hazardous conditions. Consider carrying an emergency pack that contains jumper cables, ice scrapers, anti-freeze, and blankets. 

Check vehicle for any faulty components:

Before heading out, make sure your brakes are working properly, ensure that the air pressure of your tires are at normal rates, and that lights are bright and functional.

Clean/defog your windshields:

Lack of visibility tends to be one of the biggest factors in snowy weather accidents. Utilizing your vehicle's windshield wipers and defogger can be your best tools to combat any visibility issues.

Drive slowly and proceed with caution:

When driving on snowy or icy roads, it is crucial to drive with extreme caution as the roads may be unreliable and slippery. If possible, you should also avoid any sort of sudden braking as it can lead to losing control of your vehicle. 
Austin Personal Injury Attorneys At Your Service
Even if you take the necessary precautions when driving in severe weather conditions, there will always be other drivers who do not.
When you or a loved one are involved in a weather-related accident as a result of another's recklessness, it is in your best interest to get in touch with the Austin personal injury attorneys of Ramos James Law, PLLC, in order to seek justice for your injuries.
Contact Ramos James Law, PLLC, today for a FREE no-obligation virtual consultation!
Source: CBS 21 DFW